Hotshot heading North and already marlin action
So far as we head up the coast to the Great Barrier Reef for our Cairns 2017 Giant black marlin season we have been pretty lucky.
The weather has been absolutely glamour and we have made great time. We should be in the Whitsundays by tomorrow afternoon.
Lots of whale sittings and we are marking a lot of bait on our new Furuno Package. Please check out their  page here and be sure to give them a like!
https://www.facebook.com/FurunoFishingFanatics/?ref=br_rs
Along the way we had the heavy tackle gear out on the first day just outside of Faiser Island. During our blue marlin fishing session we were awarded with a beautiful 600lb blue that gave us a show on the leader!
We caught her on a tantrum lg tube in purple.
For more info on Tantrum check out link
Check out the little snippet below!
And this was only on day one! We ended that day 1-2 on blue and also raised a stripe.
Day two proved to be another day for marlin. This time we were lucky to get a very early (just out of bed) bite. We moved inshore a bit and had out our light tackle spin rods! This little guy as well put on a great show for us! We had out our Pakula Lures and as usual they produced!
For more info on Pakula Lures see link below
Check out the attitude of this fella below
So this brings us up to date! No telling what today will bring us! Thats the great thing about fishing… You never know, any second that dream fish can bite!
We would also like to thank our new friends at Inkedfishing
for our amazing new gear! Please check them out!!!
https://www.facebook.com/InkedFishingAU/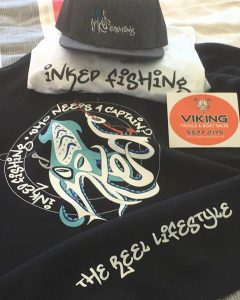 And for all your fishing needs 
https://www.facebook.com/vikingtackleboats/
Also thank you to Spotters Sun glasses for all their support during 2017
Stay tuned for more updates and we still have a few days open for our Cairns 2017 season contact us for dates and prices
Tight Lines
Team Hotshot