Fishing Report Hotshot Charters
Hotshot Charters has just gotten in from world record fishing with Jason Caughlan. For those in the know Jason fished with Capt. Craig Denham years ago and landed the 1389lb black marlin.
We have spent the last weeks fishing out of Lizard Island chasing the 30lb and 16lb black marlin records. The first few days were a bit slow as the bite was heating up further down at the bottom of number 10 Ribbon  and we were getting late starts to the day. We had a few small fish come into the teasers and managed to tag and release a few more on 30lb.
Yesterday was a great effort as within 10 minutes of putting the teasers and a bait out we had a really nice bite and hooked up to a 800+ black that Jason proceeded to fight for just under 4 hrs.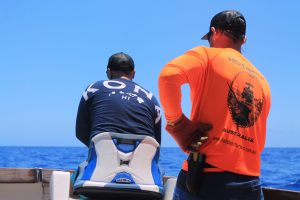 Being on light tackle the fish really dogged down and it took a lot of driving skill on Capt. Craig Denham part and Jason's angling skills to get her to the surface. Unfortunately light tackle line the 30lb broke just shy of getting her on the leader.
We are currently in Cooktown for the day waiting to depart this afternoon with Sean Van Veijeren and Robert "Fly" Navarro for the next 16 days fishing 130.
The bite has definitely started to heat up with reports of large fish thru out the entire Ribbons.